Last Updated: 2023-05-09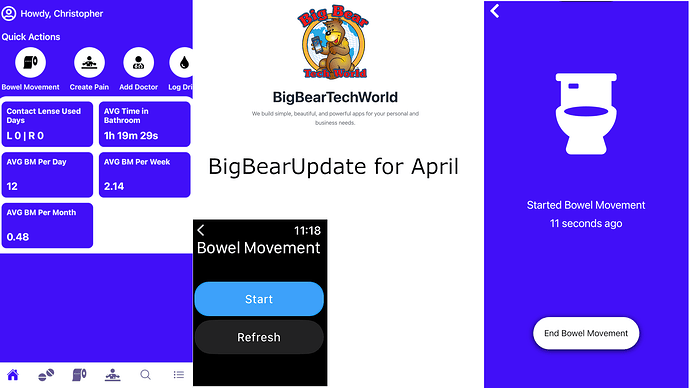 Throughout April, we have been diligently working on enhancing the user experience. With BigBearUI V3, we aimed to break the norm by eliminating the tabs at the bottom and unifying the appearance of our Web App and Mobile apps. While our users have welcomed this idea, it did have one limitation - no multi-tasking within the app due to the presence of only one navigator. To address this concern, we are implementing a new approach with BigBearUI V4. We are striving to maintain simplicity while incorporating multi-tasking through the addition of Tabs. Our team has made significant strides towards the beta release of most of our apps on V4.
The aim of our redesigned UI is to prioritize showcasing the most important statistics on the homepage, providing you with a comprehensive overview of the latest developments. In the coming months, we'll be expanding our selection of stats and making the updated UI available to all users across all apps.
New UI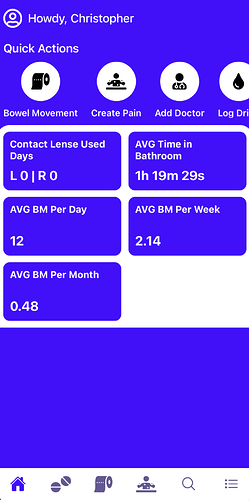 As you may observe, the tabs are located at the bottom of every page for convenient accessibility.
Web App UI
At this time, we haven't finalized the updated design for our web apps. However, our objective is to make it closely resemble the mobile UI, ensuring a familiar user experience across platforms. Our priority currently is to update all mobile apps, following which we'll focus on refining the look and feel of the web app.
Apple Watch App
Our team has begun development on the Apple Watch app for BigBearHealth. The current version allows users to initiate and halt their bowel movements directly from their watch, eliminating the need to access the phone app. Additionally, we anticipate that this feature will offer enhanced sanitation benefits when using public restrooms.
DoorKnockerPal Update 6.2.0
With this update, we've tackled a range of bugs and login errors that had been plaguing the system. In addition to these fixes, we're also gearing up to launch the new UI in the next few months.
[6.2.0] - 2023-05-04
Fixed
At times, when switching between applications, an error message indicating no internet connection would appear.
The connectivity to BigBearNetwork has been enhanced.
Resolved an issue that caused the app to crash when attempting to change the position on the map screen.
Fixed a bug that caused the app to crash when the latitude was out of bounds.
Clicking on the "Move Marker" option after generating a door and searching for an address may result in a white screen error.
Sometimes, an error or crash would occur during the login process.
Boxinvy UI update
We've been developing a new UI for Boxinvy, but it's yet to be released. Our team has been rigorously testing it in QA to ensure that we deliver a high-quality update to our users. While this may slow down the update process, we prioritize thorough testing over speedy releases at BigBearTechWorld. We believe our users deserve a smooth, bug-free experience as much as possible.
Beta Testing
If you're interested in signing up to receive the latest version of our apps, please don't hesitate to start a chat with us and inquire about becoming a BigBearBetaTester. Should you be selected, we kindly ask that you provide feedback on both the positives and negatives of every update.
BigBearWebsites
So we set out to build new frontend websites to better showcase the apps and marketing. Our new frontend websites can be found at https://bigbeartechworld.com
Conclusion
In conclusion, at BigBearTechWorld, we are constantly working towards improving our user experience. With the launch of BigBearUI V3, we received positive feedback from our users but realized the limitation of not having multi-tasking capabilities. Therefore, we are excited to introduce the new approach of incorporating tabs in our upcoming release, BigBearUI V4. Our redesigned UI aims to showcase the most important statistics on the homepage, providing a comprehensive overview of the data.
We are currently working on updating all mobile apps, including DoorKnockerPal and Boxinvy, while also developing an Apple Watch app for BigBearHealth. Our team has been rigorously testing the new UI in QA to ensure a smooth and bug-free experience for our users. We also welcome users to sign up as BigBearBetaTesters and provide feedback on our updates.
At BigBearTechWorld, we prioritize our users' experience and will continue to strive towards improving it with every update we release.