Last Updated: 2023-02-21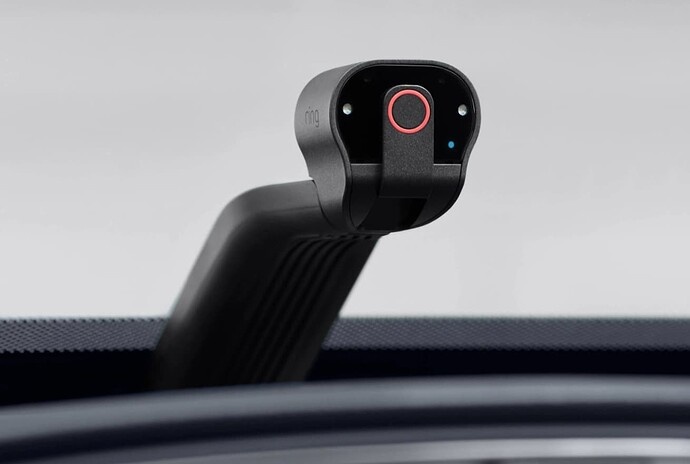 Dashboard cameras, or dashcams, have become increasingly popular among car owners in recent years, as they can provide valuable evidence in case of an accident or incident. Some models even offer advanced features like lane departure warnings and collision detection. The Ring Car Cam is one of the newest entrants to this market, with Ring expanding its product line from video doorbells and security cameras to the automotive space. Here's what you need to know about it.
The Ring Car Cam is a high-definition 1080p vehicle camera with a wide 110-degree field of view. It includes two cameras, one facing forward and the other monitoring the car's interior, which could be useful for monitoring passengers or pets in the back seat. The car cam also features an integrated microphone and speaker for hands-free communication with individuals outside the vehicle.
The Ring Car Cam comes with various advanced features. For instance, it has a "Traffic Stop" mode that can be activated by saying "Alexa, Record". This mode records for five minutes, which is uploaded to the cloud, while the rest is saved locally. This feature can be convenient to capture incidents, special events or when you are stopped. Additionally, the car cam can alert you if it detects a break-in or an impact while the vehicle is parked, and you can receive these notifications on your mobile phone via the Ring app.
Installation Process and Connectivity Setup
We installed the Ring Car Cam in three vehicles, and the initial installation took some time. To set up the device, you need to scan the QR code on the back and follow the installation steps. If you don't have an LTE signal, you can connect to WiFi instead.
After connecting to WiFi, the device will pulse while it downloads the first of four updates. Once the update completes, you will need to go into the app and select "Reconnect WiFi". Then, hold the top button on the camera for two seconds. If the green light pulses, the connection is successful. However, if the light doesn't start pulsing, unplug the Ring Car Cam for 10 or more seconds and ensure that the blue light fully powers down. Plug it back in, hold the button for two seconds, and the green light should pulse, indicating that it's ready to connect to WiFi.
If your Ring Car Cam goes offline, you may need to reconnect it to WiFi. While I didn't have the chance to test whether the installation process is smoother using LTE, it's possible that the device could stay connected throughout the multiple updates.
Adapter Design Flaw and Recommendations for Use
We attempted to use the plastic adapter to improve the fit of the Ring Car Cam on the dashboard of one of the vehicles. However, we discovered that the adapter had a design flaw. When we attempted to attach the Ring Car Cam to the glass, it did not fully adhere, causing it to be unstable. We were able to remove it from the bottom of the device without causing any damage, but we suggest being careful when doing so and having someone hold the bottom of the camera to prevent it from sticking in the wrong position. After removing the adapter, ensure that the Ring Car Cam is straight before gently pushing it up and attaching the bottom. If you use the adapter, it may not stick completely, causing it to become loose while driving. This can result in the camera shaking and potentially damaging the device or the vehicle.
Storage Capacity, Cloud Uploads, and Data Limitations
The Ring Car Cam saves video footage to its local storage, which can hold up to 7 hours of video. However, this storage capacity may not be sufficient, and it would be beneficial if the device had more storage space. Additionally, it would be useful if there was a way to monitor how much local storage is being used. The car cam uploads motion, traffic stop, and live view highlights to the cloud, but you can only download a 20-second video clip or slightly more if you're lucky. If you want to download longer video clips, you may need to use screen recording. In my opinion, the 2 GB data limit on AT&T LTE is low, and it's unclear how it will hold up over time unless the compression is of high quality. Time will tell how well it performs.
Enhanced Security and Monitoring Features
The Ring Car Cam is an outstanding device that provides enhanced security for your car. It sends alerts on any motion events happening around your vehicle and informs you if anyone is tampering with your car, making it particularly useful in today's times. You can also check up on your partner quickly while they're at the store or communicate with them regarding any requirements. Moreover, you can monitor anyone inside your car or at the mechanic shop as long as the device has power.
However, it's important to note that the remote features require a Ring Protect Pro subscription, which we'll discuss later in the article. The Ring Car Cam has numerous other beneficial features, including accurate location tracking, which has been impressive in our testing. The Live View and Live Talk functions, similar to those found in Ring Video Doorbells, are also beneficial. You can modify the device's motion sensitivity and use the motion snooze feature to stop notifications for a specified period, ranging from 30 minutes to 12 hours.
Furthermore, the car cam's interior motion verification setting reduces the number of alerts you receive from outside the vehicle, allowing you to get notifications solely for events occurring inside the car.
Subscription and Pricing
With the increasing use of cloud computing and monthly fees, it's not surprising that Ring charges for remote features such as GPS location and Live View while on the go. This makes sense, as servers and infrastructure are not cheap. Without the subscription, you can still use the Live View, Two-Way Talk, Notifications, and GPS location, but there is a catch – you need to have WiFi or use your phone's hotspot. Although I haven't tested it, I assume that the hotspot should work.
Keep in mind that without the subscription, you'll miss out on advanced features such as Cloud Highlights (which lasts for up to 180 days), Cloud Highlights for Traffic Stop, Rich Notifications featuring recorded images, and Download and Share Videos. If you don't intend to get the subscription, it's best to avoid purchasing this device as you won't have access to these advanced features.
It seems that there is a glitch when installing multiple Ring Car Cams in the same location, as the trial offer may not be available in such cases. However, if you encounter this issue, you can reach out to Ring's customer support, and they will most likely add the trial to your devices.
Starting February 15th, 2023, the subscription price for the Ring Car Cam is $6/month or $60/year per device. While the price may seem a bit high, the peace of mind it provides for your loved ones and family members while they're out and about is invaluable. In today's world, safety has become a top priority for households, and the Ring Car Cam's advanced security features make it a worthwhile investment.
Final Thoughts
Overall, the Ring Car Cam is a valuable investment for anyone looking for additional security measures for their vehicle. Despite some drawbacks, such as limited storage and requiring a subscription for full access to features, the device offers peace of mind and advanced security features that outweigh the downsides. Whether you're looking to monitor passengers, protect against break-ins, or capture footage in case of an accident, the Ring Car Cam is a great choice